AH I been so busy this week with school and I have been sick since Wednesday :(. Sore throat and the runny nose thing. I had my two friends sleep over on Friday, made Tacos de carne asada and we worked on our homework till 1:30 am. The whole day I was sneezing and I lost my voice so I sounded like a boy going through puberty >:(. My friends got a laugh at it so I guess I am not a bad host after all :P.
SO, today we went to the Block of Orange and to Saks for the CCO counter.
I got M.A.C. Rose pigment and the Naked Honey Skin Salve!
M.A.C. Rose Pigment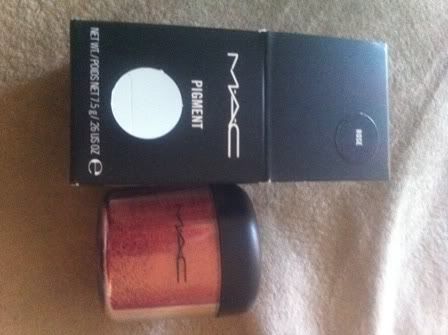 I wanted this for the longest time but I didn't want to get it in those new containers :X. $13.50 is not bad :D. I was NOT a fan of pigments cause they are messy and what not but I bought Melon when I went to Primm, Nevada at that CCO and from there I decided I needed more pigments!
From this swatch you can see the golden-ish sparkles eekkk! I love it! I would use it wet though to bring the pink out.
M.A.C. Nake Honey Skin Salve
Ahhhh! I am glad I can still find this! This was an out of the blue purchase. I heard so many great things and I missed it when it came out in the Naked Honey Collection. It's multi-use but I am gonna use it on the lips since I have very dry lips. I wore this all day and my lips are nice and soft :). I can't smell it but my sister and friend said it smelled kinda weird ahah. They couldn't describe the smell but if you gals go to the CCO you might want to grab it! its awesome!
That's all I bought. It was a small CCO counter there wasn't much to pick from :/ but I am happy with my purchase :).
I also stopped at Old Navy to get 4 tank tops (gray, white, lime green, pink). 5 dollars each is not bad at all. I am a tank top and jeans girl hahha it's all I need to wear.
I hope everyone had great weekend!