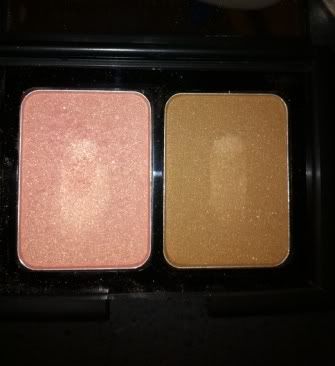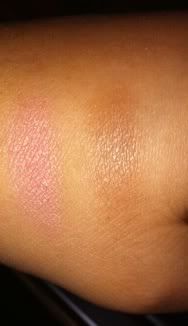 -Contouring blush and bronzing powder.
I really wanted to like this...I do like the bronzing part but the blush not so much :/. It swatches well on my hand but when I put on the blush on my cheek I didn't get as much color in and a got a BUNCH of shimmer. Maybe it will be better for highlight? The only way I use it is if I mix the both colors together. Maybe my skin tone is not for it. Either way I will still use it. The mirror is huge and the blush and the bronzer together does look good. I will continue my search for that peachy color blush!
I love this! It is a very good eye primer. It's not drying and it glides on your eye well. No creasing for me and a little will go a long way. It does smell kinda funky but other than that it is good for 3 dollars! :)
+++ on this brush. I love it; packs on shadow well. Very impressed since I didn't really like the C brush from their studio Line. For a dollar its really a steal :).
ok, I was hoping this would be a good eye liner brush to apply eyeliner on my lid and do a wing...
The bristles are too flimsy for doing any cat eye or top liner... for me at least. I will use this more for eyebrows or even applying gel liner on the waterline.
This is a good primer! It leaves my face feeling like silk and makes my foundation application easier. When I used this I had dry spots on my face and I used it a couple times and the dry spots went away :). When I first use it I felt it was toooooooo oily and it scared me a bit but after I put it on my face it but it didn't feeling oily at all.
Good- it spot cleans my brushes to were I can use them again with out doing a full deep shampoo cleaning.
Bad- It smells and the smell stays in the brushes afterward.
The smell like really cheap perfume. I don't mind it as much because it does the job.
LOVE this brush!!! soft and it applies blush really well. Very cheap alternative for any flat brush out there.
This is only the stuff I used to far. I have yet to try the rest of the stuff I got.
SO far, I like my purchases! Yea, there were somethings that didn't work out for me but I found another way to use it so it wasn't that much of a fail.
I will do a part two soon.
I hope everyone had a good weekend :) I went to Boulder, NV for the weekend and you all know what that means...I went to the CCO :) i'll do a post about it later.
<3