I will be blogging about Stila's Smudge pot Holiday Set and one of the Barbie Smudge pots that came out a while back.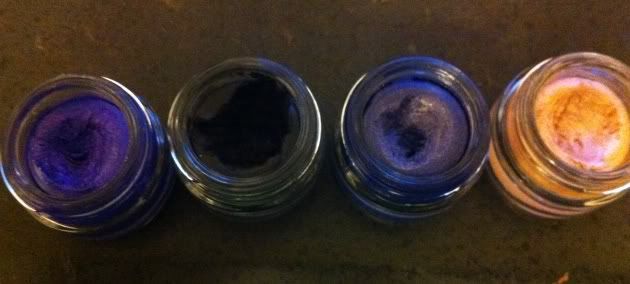 Starting from the left: Violet, Black, Starry Night, and Kitten.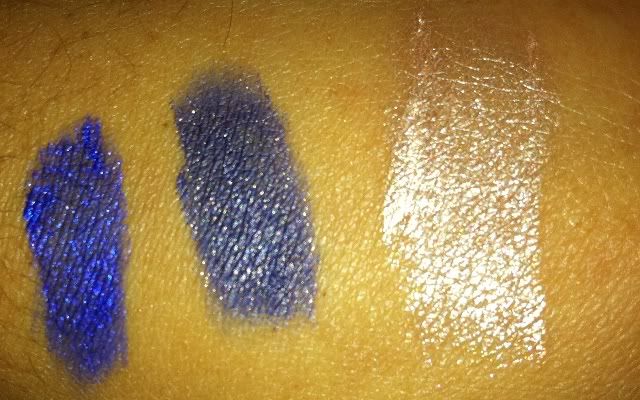 WITH FLASH: VIolet, Starry Night and Kitten... (Didn't swatch the black cause its black ahah we all know how that looks like)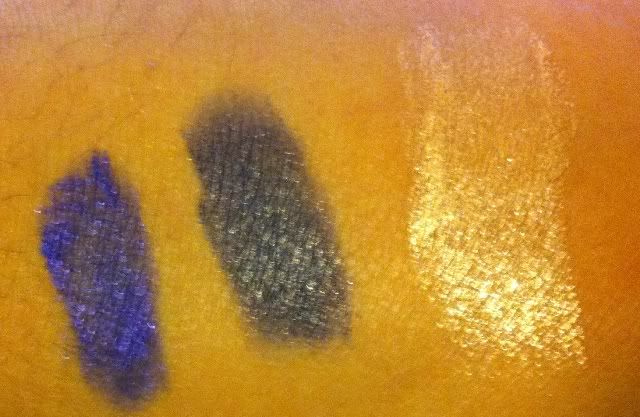 W/O flash
I wore Violet (which looks blue on camera...i guess cause of the blue undertones) for my friends bbq and it got so flaky and nasty. I don't know if I am applying them the wrong way but they are so hard to work with.
Starry Night(navy blue with gold sparkles which is really pretty) I haven't used this one as much but I think this one and Violet would be better used as eyeliners.
I have used Kitten as a base but they dry off so quickly that if you put too much of it it looks chunky so I am lazy to use this but when I have use it it looks pretty with a shadow and eyeliner on top of it.
I LOVE the black one thought. I use this almost everyday and its creamy even as a base. ( I plan to buy the reg. size of this when I am done with the one I have. I think it has more staying power than M.A.C's fluidline).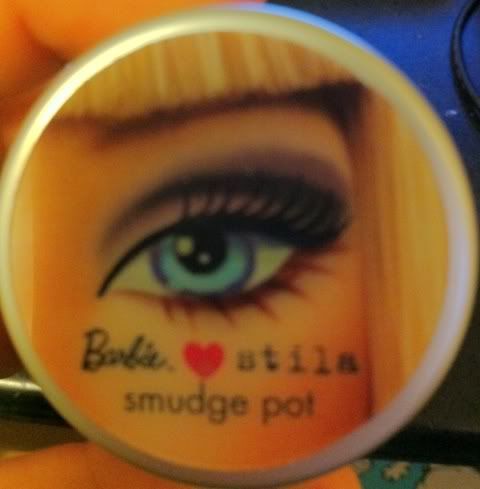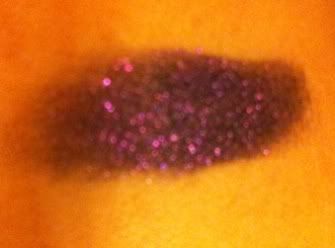 W/O flash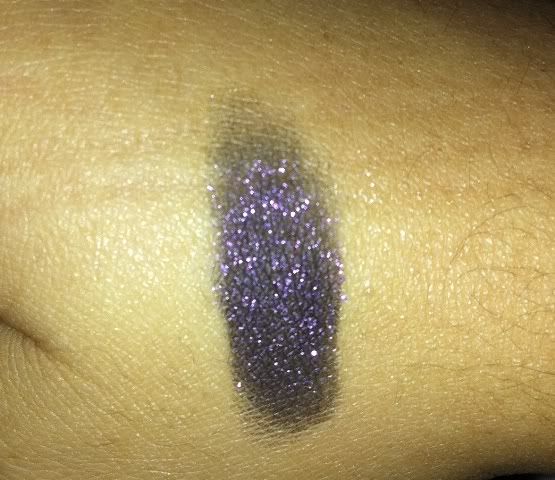 WITH FLASH
This one is called "Little Black Dress". It has pretty pink sparkles in it. I had to have this hhahah. I have use this on the eyes and with "Cholita" from the KVD True Love palette and it works well. It is also drying but not as much as Violet. I used this as a eyeliner (winged eyeliner) for school this wk and the glitter got on my face and I also saw flaking with it :/.
Final thoughts-
They are very pretty colors but I don't know why the are so dry. I'm thinking its the glitter in them because the Black is not like the others. I will probably keep using them as eyeliners except for Black and Kitten.
Questions for you-
Have you used these? Am I doing something wrong or are the ones with glitter just hard to work with? DO you like them?
P.s.
http://krystlemethod.blogspot.com/2010/10/blog-award.html (check her out she has an awesome blog)
She gave me the One Lovely Blog award and thanks you soooooo much!!!
Here is what you have to do when you receive this award:
1. Make a post about the award and link the blog of the person who gave it to you
2. Give the award to 15 blogs that you've found out recently
3. Tell these bloggers that they have an award.
I don't think it should be limited to only 15 lovely bloggers!
I say this award goes to all 54 of my followers because ALL of you have lovely blogs :). I really enjoy every single one of your blogs and I love reading and reading your opinions on what we all love..... BEAUTY!
I hope you all have a great wk and it's raining here! YES!!!!! I looove it! I hope we don't go back to those HOT days!
xxxxx
Vio