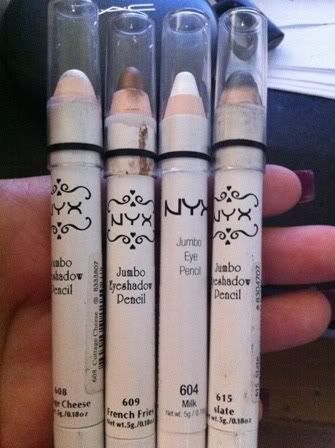 These are the jumbo pencils I have...
Starting with
Cottage Cheese- This is a white/pearl shimmery color. I love this color but it creases like crazy even with primer on. I use it more on the inner corner to brighten up the eyes.
French Fries- I had French Fries for 2 wks now and it is my favorite out of the 4! Its a perfect base for browns/golden brown eyeshadows. This didn't crease on me so thats good!
Milk-A LOT! of people love using Milk as a base but I haven't had a chance to use it..I kinda don't know how I would since its so white. ANy ideas? if any of you have this pencil..how do you use it? It is a matte white and very pigmented.
SLate- This would be my second favorite. It is a metallic-y charcoal/gray. I use this the most when using my gray shadows on my MEtal Orchestra palette by Kat Von D. I got compliments the day I wore it last wk :). Its simple and dark :loves it!:
***Kat Von D palettes are 24 dollars right now on Sephora online! so if you have been wanting to try them you should totally take advantage of this deal! it ends the 30th of this month***
SWATCHES! with flash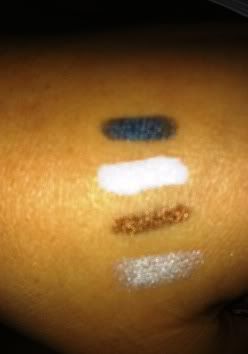 Slate, Milk, French Fries, and Cottage Cheese.
I would recommend them. I think they are workable. I might get more they have A LOT of colors to choose from and I believe they are 3 dollars and something. It depends where you get them.
DO you HATE them or LOVE them? I would love to hear your thoughts!