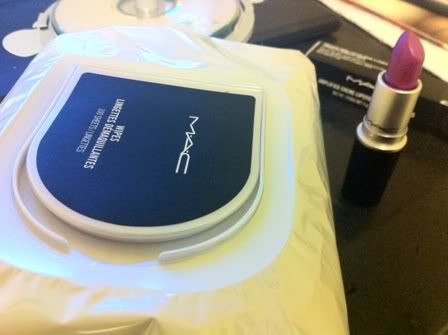 Sooo..I went to M.A.C. this weekend with my sister and she was there to get a lippie from the Tartan Tale ( I forgot which one) It was called cut a something hahaha. I saw that they had the Wicked Ways lipglass from the VV collection but of course I asked the girl and she said they did have it but when she checked they didn't anymore so that was a bummer :(. I didn't want to leave empty handed so I got the wipes (I wanted the 45 but of course they ran out of those too) so I just got the 100 wipes for 28 with tax :X. I was like FUCK these better be good! I tried them this whole week...they are good as in taking off my mascara and eyeliner but they kinda irritate my eyes. Idk if its because of my dry skin? but it's not that bad so I will continue to use them. They will last a while so I guess it was money well spent.
M.A.C. Violetta!!!!!!!!!!!!! They still had in on the MAC website and I saw this on my friend and I had to have it! I am so glad I did before they ran out of it cause its a PRO item. I tried it on with Funtabulous and its GORGEOUS!I can't believed I lived without it! It does not look so purple on me but more of a fuchsia. I can;t wait to wear it out!
I never thought I would ever buy these thing but I guess I should never say NEVER. I have been missing out!
I also got this in the mail...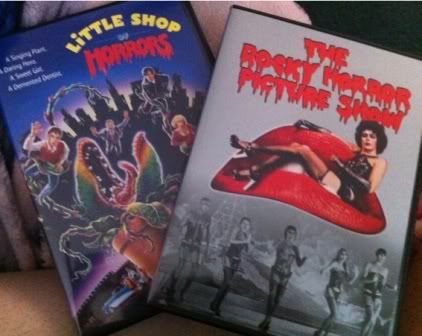 Yayyy! I havent watched these in yrs and they are a MUST in my collection. After watching GLEE last week I realized I didn't have the Rocky Horror picture show so I got on that ASAP! :)
I am waiting on my ELF packages! I dont know why they are taking forever :(.
Hope everyone has a great weekend!